the highest quality whenever you need it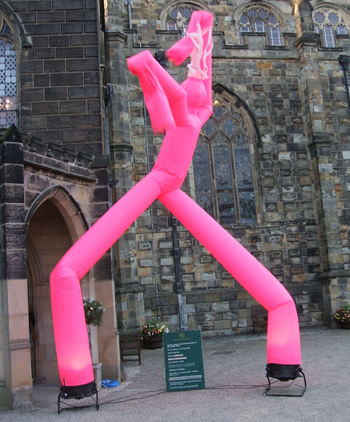 We are continually adding to our collection of audio visual equipment and have recently purchased more EV SX300 speakers to compliment our sound system, two 4000 ANSI Lumen Projectors, a new UHF radio microphone system, video switcher/scaler, and four 42" Panasonic wide screen plasma displays. The plasma displays are ideal for product launches, corporate presentations and for sending a live feed to overflow rooms etc.
pink illuminated air dancer
Controlled by two fans, the figure dances away and looks really great. As far as we know we have the only one in Northumberland and it is available at just £100 per day. Contact us for more details.
"Sounds Familiar" disco
ideal for your wedding, birthday celebration or other special occasion.
We specialise in offering you a bespoke programme, top quality sound and total flexibility. We specialise in working in prestigious venues to ensure your special day is one to remember for the right reasons.