The home of audio, visual and lighting in Northumberland and the Borders

Welcome to Three-16, the home of Three-16 Productions, Northumberland Sound Hire and Northumberland AV Hire.
We are really excited about 2017 and look forward to being part of many wonderful events and special occasions throughout the year.
2016 was another great year for our ever growing business. We provided equipment and engineering for some brilliant events, carried out a good number of permanent installations, invested in new equipment and even purchased a shiny Mercedes Sprinter to transport it all in.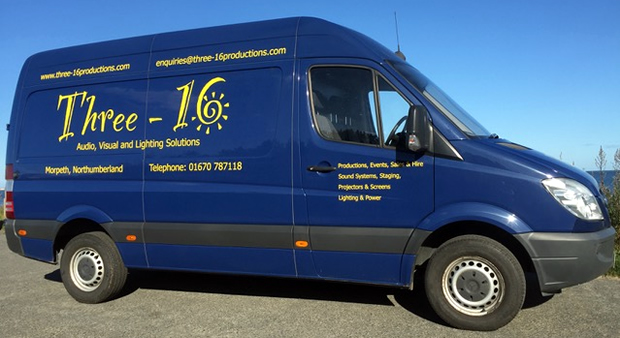 We are really grateful to our regular customers for continuing to work with us; we've included some of their testimonies on this home page which celebrate our work. The diary is filling up with repeat business and we are looking forward to working with you all again.
Our new client database is growing all the time and we'd love to work with you, whether it's a Wedding, Conference, Charity Ball, Equipment Hire, Permanent Installation, AGM, Product Launch, PAT Testing of Equipment, Stage Hire, Disco Equipment Hire, Music Festival, Church Event, Private Party or someone to operate your equipment for a special event. Indoors or outdoors, large or small, here at Three-16 we can help you, whether you are in Northumberland and the Borders, Newcastle, Durham or anywhere else in the U.K.
Our most exciting investment in equipment during 2016 was the purchase of Prolyte StageDex. These stage pieces come in either 2m x 1m or 1m x 1m sizes with a range of leg heights from 300mm to 900mm. Prolyte Staging is one of the industry standards and we'll be investing in additional staging and accessories throughout the year. You can hire just a single piece or we can work with you to design the best shape and size of stage to really enhance your event.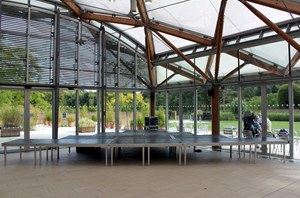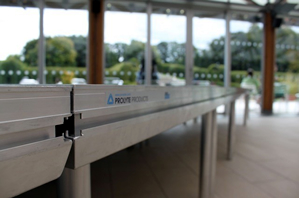 Lastly, we're pleased to announce some equipment hire price reductions to help you save a little money as we get into 2017. For example, you can now hire our Panasonic ET-600 6000 Lumen Projector (with interchangeable lenses) for £150 per day, while each of our Panasonic 42" Flat Panel Plasma Screens with Trolley Stand is now just £75 per day. Both of these are ideal for bright, clear and colourful presentations. Please call, email or complete our online enquiry form for a detailed quotation.