the home of audio, visual and lighting

Three-16 Productions provide the very best solutions in audio, visual and lighting for events and installations. We specialise in music events, fashion shows, conferences, product launches, theatre and religious events.
We are a young and dynamic company offering the latest technology and expertise in the event industry. We work in all categories ranging from corporate AGM's and music festivals to outdoor lighting shows and charitable events.
In recent years, the Three-16 team have worked in some of the top venues in the UK as well as community halls, schools and local churches. Highlights have included Brinkburn Priory, Durham Cathedral, Kielder Water & Forest Park, Alnwick Garden, Newcastle Centre for Life, Hilton Gateshead, Newcastle Cathedral, Westminster Abbey, White Swan Hotel in Alnwick, Budle Hall, Doxford Hall Hotel & Spa, Ellingham Hall and Durham Castle.
From dry hire of sound, lighting or visual equipment to full event support, Three-16 can really make a difference to your special occasion. We can help you plan your event no matter how large or small and work alongside you and your team to deliver the very best visuals, sound and lighting indoors or out.
Recently our support for weddings has increased as more and more people are looking for that something different from the norm. Coloured themed lighting, sound systems for the reception, indoor or outdoor projection etc., can all add that 'WOW' factor to your special day. Contact us for all your event hire requirements.
A recent highlight for us was to provide sound reinforcement for the Installation of the new Bishop of Durham in Durham Cathedral where we gave our new Behringer X32 (see New Equipment) its first outing.
product
spotlight
Panasonic EX-6000 Multi Media Projector. Our latest projector available to hire for £200 a day comes with a suite of interchangeable lenses ranging from short to long throw. With 6000 ANSI Lumens the EX-6000 has a really bright display and is great indoors or out, whether you are showing still images or fast moving sport action. Book yours now for the Commonwealth Games.
We also have a range of Panasonic flat panel plasma screens available to hire from £100 per day.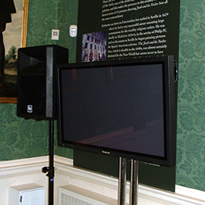 new equipment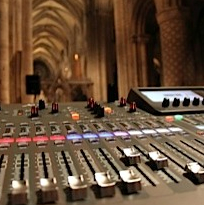 Three-16 has gone digital with the purchase of a Behringer X32 mixing console and 2 Behringer S16 digital snakes. Moving over to digital means that we can respond to ever reducing and demanding set up and break down times while still providing all the technical features of a full outboard rack including, gates, compressors, delays, reverb, eq, monitors and foh all via a single Cat5 cable. With legendary Midas and Klark Teknik technology inside, the X32 provides the very latest in digital sound reproduction at a sensible price. We still have some analogue kit available to hire for smaller events.